Rachel Derr M.D., Ph.D.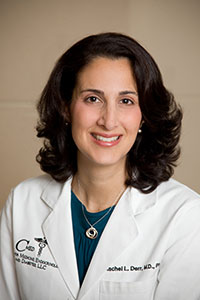 After completing my Endocrinology fellowship at Johns Hopkins in 2008, I joined the outstanding Endocrinologists and Internists here at Center for Medicine and Endocrinology.
Upon referral from your primary care physician, my goal is to address any endocrine conditions you might have and to work with you to manage those issues to achieve optimal health.
I am committed to being your healthcare partner and to providing "Treatment and Education for a Lifetime of Health."
I look forward to seeing you soon,
Dr. Rachel Derr
Education
Fellowship, Endocrinology, Johns Hopkins School of Medicine, Baltimore, Maryland - 2008
Residency, Internal Medicine, Johns Hopkins School of Medicine, Baltimore, Maryland -2004
Doctor of Medicine, Johns Hopkins School of Medicine, Baltimore, Maryland - 2001
Bachelor of Science, Princeton University, Princeton, New Jersey, 1997
Certifications
Board Certified, American Board of Internal Medicine

Diplomate, Certified in Internal Medicine
Diplomate, Certified in Endocrinology & Metabolism
Hospital Affiliations
Current Practice
Center for Medicine, Endocrinology & Diabetes, Atlanta, Georgia (2008 - Present)